The Work That Reconnects Weekend
27th September 2019 @ 5:30 pm

-

29th September 2019 @ 4:30 pm
Truly meeting oneself and one's human family is a healing and moving experience. Especially when we come together in our concern and hope for this precious Earth, our home. In the fabric of the web of life we find the threads that bring us home. Here we transcend time and form, meet our ancestors and future generations, become inspired and widen our vision.
The Work That Reconnects is a powerful group method developed by Joanna Macy – eco-philosopher and peace activist -that helps us to reconnect with the wonder of life, fully embracing the threats we embark upon. It helps you to reconnect and deepen your gifts and longings, your commitment to and vigor for life itself.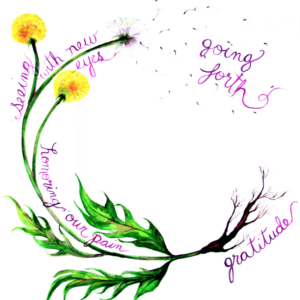 The Workshop starts Friday the 27th, 5:30PM with a shared meal followed by an evening program, and finishes Sunday the 29th at 4:30PM. It is a full program in which we will go through the spiral of the Work That Reconnects. This spiral offers us a solid and profound framework to explore our deep belonging and care for the world. We start with gratitude and feel the nourishment of this ancient practice of giving thanks. We create a safe space so we can be really present for all the feelings that live inside us and open for our pain for the world. Witnessing and supporting each other in this often lonely place is liberating, empowering. When we see with new eyes we tap into the wisdom of many traditions and strengthen our awareness beyond our species and our experience of time. Here we breathe deep time and deep ecology. In the fourth step of the spiral we harvest our gifts and let our deep longing speak to fuel us, to be present for the changes we want to see in our daily lives, the world, in honor of all beings. For more information about 'The Work', look at www.workthatreconnects.org and watch the documentary Widening Circles. 
Manon Danker will lead the workshop. Manon is a sociologist and environmentalist with emphasis on deep ecology. Working in nature reserves in Peru and Indonesia, she experienced the challenges between humanity and nature closely. She also saw the toll it took for environmentalists to work under such dire conditions. In looking for wisdom to work with the overwhelming stories of our time, she trained with Joanna Macy. For her this work is a powerful tool to help her stay present for the wonder of life and humankind. We really liked her warm and peacefull way of leading the workshop and were touched by her voice. For more information about her look at www.elemental-journey.com
We will stay at the Bronhoeve a beautiful centre (30 minutes East of Utrecht) on the country side, with fruittrees, a little forest and wide grass lands. It has a beautiful workshop room. You can stay in a 2p, 4p or 6p bedroom. Vegan food will be served.
We try to make the course as accessible as possible. There are two possible investment fees: €225 and €295,-. The € 225,- fee is for students and people with a lower income and the € 295,- fee is for people with a moderate and higher income. Please be considerate of this when you apply, because we can only offer a limited number of places for the lower investment, otherwise we cannot cover all costs. Course fee, all meals (vegan) and accommodation are included.
There is place for a maximum of 12 people (and a minimum of 8). The language will be in English or Dutch (depending on the participants).
To register, please send an email (in Dutch or English) to info@weloveearth.org.